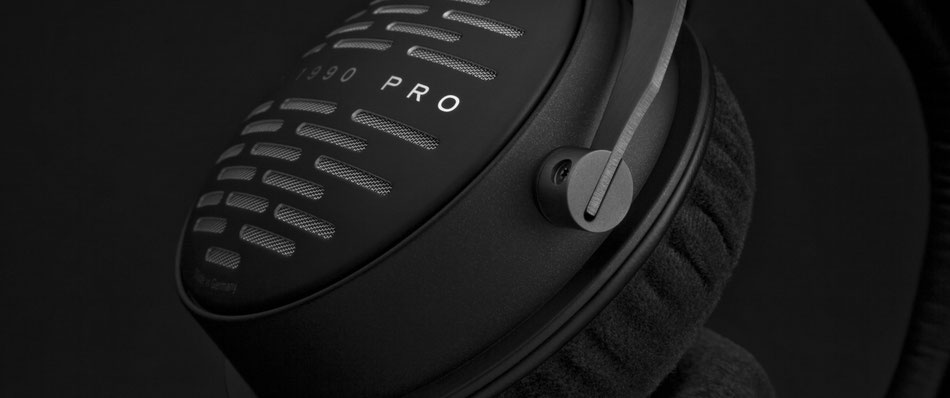 Introduction
The Beyerdynamic DT-1990 Pro 250 Ohm is an open, circumaural studio headphone of the upper class. In addition to the headphones and a carrying case, Beyerdynamic includes a second pair of ear pads in the delivery box. While a balanced sound is output with the standard vinyl ear pads, the interchangeable leatherette ear pads provide an analytical sound. The headphones' 3m straight cable plugs into one end, so it's out of the way in front of your body. The also included 5m long coiled cable, on the other hand, can provide extreme freedom of movement in the studio.
Review
The immense frequency range of the Beyerdynamic DT-1990 Pro extends down to an incredible 5Hz, offering a wider audio spectrum than most of the earphones on the market. The impedance of 250 ohms requires a headphone amplifier for the use of these headphones that outputs enough voltage to operate the DT-1990 Pro at common volume levels and to exhaust its fine resolution. Whoever buys these headphones will not be using them with smartphones, laptops, etc., but will be working with audio technology on a professional level. When used with a good preamp, these headphones can reproduce sound undistorted up to a maximum sound pressure level of 102 dB SPL.
In practice, the DT-1990 Pro works absolutely fine with sufficient loudness and punsh when plugged-in directly to a MacBook Pro (M1) via the mini-stereo jack in cases where a Midi-Masterkeyboard (e.g. KOMPLETE KONTROL S61) and a built-in sound library are used to make music on the go.
Needless to say that the Fantom and Fantom-O series keyboards also supply more than sufficient output for these earphones as well.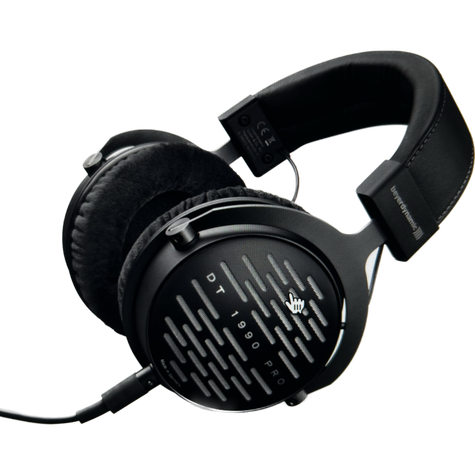 If you have high demands on the sound quality of your headphones and are also looking for a device that is comfortable to wear even during long studio sessions, you will find what you are looking for in the Beyerdynamic DT-1990 Pro. Due to the fact that two pairs of interchangeable ear pads are included, which provide for a different sound image, the headphones can be used flexibly and are even something for users with changing requirements. Thus, buyers save the purchase of a second pair of headphones with complementary sound. Those who are often on the go, but do not want to do without high-quality headphone sound, can transport the DT-1990 Pro safely in the precisely fitting recesses of the hard case, which is also included.
Thanks to its open design, the Beyerdynamic DT-1990 Pro delivers uncompressed sound that enables excellent signal assessment in both mixing and mastering situations. Compared to its "bro's", DT 770 / DT 770 Pro, the bass spectrum of the DT-1990 Pro appears less pronounced. In practice, the DT-1990 Pro therefore allows to mix better sounding songs when heard on other sound systems (e.g. Bose Soundtouch series or Harman Kardon Car Audio systems). Moreover, the DT-1990 Pro offers MUCH more richness of detail, stereo width, and room impression compared to the DT 770/Pro series.
The wide reproduction bandwidth and richness of detail of the DT-1990 Pro are also reasons why these headphones are suitable for even the highest audio mastering demands. With their extremely wide frequency response, these headphones are ideal for use with high-quality equipment and high-resolution signal chains. And even if recording signals are to be evaluated in the control room, the DT-1990 Pro succeeds without blind spots at the ends of the sound spectrum.
During band rehearsals over the internet, these earphones were able to detect slight timing issues of my bandmates abroad before they even noticed while not playing with headphones - itsn't this amazing? Additionally, wearing these headphones is quite comfortable even for several hours with no headache, no sweating around the ears, the ears are not "getting tiered" etc. - this is a much better result than for DT-770 / Pro headphones that I used before.
Conclusion
The sound of these earphones are phenomenal and you immediately get hooked. The bass is present, clear and clean, nothing distorts. The remaining spectrum is absolutely linear and, therefore, these earphones are suited for all kinds of music genres including classical music. Moreover, the comfort of wearing these headphones in the studio is really a big benefit and the ears are not "getting tiered" at all.
References