Audiomack is a music and audio streaming platform that allows users to discover and stream new music, share their favorite tracks, and collaborate with other artists. The platform features a diverse range of genres and artists, including hip-hop, electronic, R&B, and more. With Audiomack, users can stream music for free, as well as upload and share their own music with others.
Audiomack also offers premium features, such as unlimited downloads and offline playback, for a monthly fee. The platform has a clean and user-friendly interface, and it's available as an app for both iOS and Android devices. Audiomack is a great way for independent artists to get their music heard and for fans to discover new music and artists.
Audiomack differentiates itself from other music platforms in a few key ways:
Focus on independent artists: Audiomack is particularly geared towards independent artists, providing them with a platform to share and promote their music to a wider audience.
User-generated content: The platform allows users to upload and share their own music, as well as discover and stream music from other artists. This makes Audiomack a more community-driven platform than some other music services.
Free streaming: Unlike some other music platforms that require a subscription, Audiomack allows users to stream music for free.
Wide range of genres: Audiomack features a diverse range of music genres, including hip-hop, electronic, R&B, and more. This makes it a great place to discover new and emerging artists.
User-friendly interface: Audiomack has a clean and intuitive interface that makes it easy for users to discover, stream, and share music.
These factors help Audiomack stand out from other music platforms, making it an attractive option for independent artists and music fans alike.
First album 'de novo' released on audiomack
Electronic beats combined with poetry is a unique and innovative art form that brings together two different mediums to create something new and exciting. In this style, electronic music is used as the backdrop for spoken word poetry, adding an extra layer of rhythm and energy to the performance.
The use of electronic beats in poetry allows the performer to experiment with different sounds, textures, and beats, adding a modern touch to their work. This style of performance can be highly engaging, as it brings together elements of music, poetry, and technology to create something that is both artistic and innovative.
Many modern poets and spoken word artists have embraced this style, and it has become a popular form of expression for those looking to break away from traditional forms of poetry and bring their work into the 21st century. If you're interested in exploring this style of performance, there are many resources available online, including videos and recordings of artists who have combined electronic beats with poetry.
second release 'I'll find my way to you'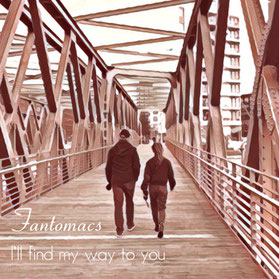 "I'll Find My Way to You" is a cover version produced by Fantomacs, the vocals were performed by Sarah Peters. The original was composed by the british musician Elderbrook in 2021. Elderbrook is an electronic music producer and singer-songwriter who first gained popularity with his hit single "Cola" in 2017. He is known for his distinctive blend of electronic music, soulful vocals, and organic instrumentation.
The cover version of "I'll Find My Way to You" is a prime example of Elderbrook's signature sound not being copied rather than further developed and re-freshed in it's appearance. Blending of electronic beats and synth sounds accompanied by the soulful and remarkable vocals of Sarah Peters gave this version the upbeat and uplifting vibe and make it an outstanding track in Fantomacs discography.
If you're a fan of electronic music with a soulful edge, then "I'll Find My Way to You" is definitely worth a listen. And if you enjoy Elderbrook's music, be sure to check out some of Fantomacs other songs and albums as well!
current release 'let's have some Fun(k)'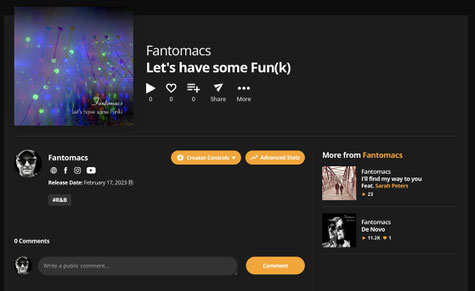 Funky music is a genre of popular music that originated in the mid-1960s and became widely popular in the 1970s. It is characterized by a strong, groovy bass line, syncopated rhythms, and soulful vocals. The term "funk" is thought to derive from the word "funky," which was used to describe a strong, pungent odor.
Funky music draws influences from a variety of musical styles, including soul, R&B, jazz, and African musical traditions. The genre is known for its emphasis on rhythm and groove, and for its use of musical improvisation and extended musical solos.
Some of the most famous and influential funk artists include James Brown, Parliament-Funkadelic, Sly and the Family Stone, and Earth, Wind & Fire. These musicians helped to define the sound of funk and continue to inspire musicians and fans today.
Whether you're a fan of classic funk or contemporary funk-influenced music, there's no denying that funk has left an indelible mark on the musical landscape and continues to be a beloved and influential genre.
Saying that the new song 'Let's have some Fun(k)' continues this kind of music genre in a modern and fresh way. The song contains all the well known elements of funky music like clavinet, groovy slap bass, tight brass sections among others. But it also surprises by other style elements from modern electronic music and some nicely performed vocal breaks.
More to come ...
Be sure that Fantomacs continues to publish on Audiomack to enrich this platform with his own songs and fresh cover versions. Stay tuned and follow his profile!